The Geometry Kitchen Tea Towel
Designed and printed in California.

MICROFIBER
In our quest to create the perfect kitchen tea towel and after dozens of tests, it became clear that microfiber was the ideal fabric for all our kitchen needs.
WAFFLE WEAVE CONSTRUCTION
Our tightly knitted waffle weave construction results in an increased drying and cleaning surface area that is perfectly soft and powerfully effective when taking care of spills, drying dishes, or wiping down countertops, all without scratching.
QUICK-DRYING
Let's face it, a wet towel can quickly become a smelly towel. Our kitchen tea towels are designed to dry faster which means more time between washes and an overall fresher kitchen towel experience.
SUPERIOR CLEANING
Our kitchen tea towels lead the pack when it comes to picking up dirt, spills, and even bacteria. With just a little water, our towels can tackle the toughest of cleaning jobs, allowing you to use less harmful cleaning chemicals.
NEXT-LEVEL ABSORBENCY
The absorbency of our premium microfiber is hard to beat, absorbing nearly 7X its weight in liquid.
DETAILS
| | |
| --- | --- |
| Material | 100% Microfiber |
| Dimensions | 45.7 x 76.2 cm |
| Weight | 320 g |
| Print | Single-sided |
| Manufactured | California, United States |
Customer Reviews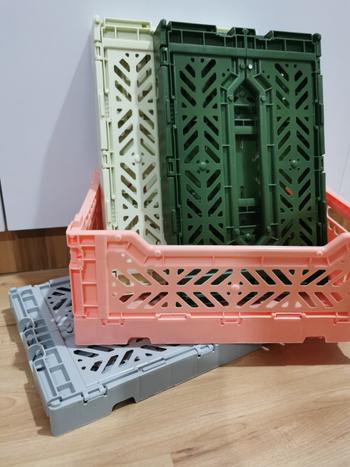 12/21/2020
I recommend this product
Aykasa minibox
Love the look and versatility of the crates!
Lydia C.

Singapore
01/10/2021
I recommend this product
Stylish and usable
Great designs and really absorbent.
Leah S.

Singapore
01/01/2021
I recommend this product
Great Gifts
It was packed wonderfully with much thought. My friends loved the gift and were impressed by the effort put in as well!
Seraphine A.

Singapore
12/30/2020
I recommend this product
Crates are of good quality and pleasant colours
What I like is that its foldable when not required, the build quality is good and I do not have to worry about my kid being cut at the edges. The colours are a plus!
Celeste L.

Singapore
12/28/2020
I recommend this product
the midi crate is not as easy to collapse and reassemble as the mini ones. so for the prices, i would repurchase/recommend just the mini crates.
the mini crates are a cute size and look lovely in the pastel colours that i chose.
Yen Y.

Singapore
12/27/2020
I recommend this product
Good product!
Quick to dry and very pretty pattern
Quang N.

Singapore
12/22/2020
I recommend this product
Quality items!
Got this bundle as a christmas gift for a friend and she loved the colours and how handy the crates were!
Lisa T.

Singapore
12/16/2020
I recommend this product
Great for storage
I can keep them when it's not in use
Jessie C.

Singapore
11/08/2020
I recommend this product
We love our towels from Geometry
They are thick and good quality. Not only are they cute and have on trend patterns that serve as accessories to your kitchen, but they also have wonderful absorbency.
Kelli

Singapore
11/08/2020
I recommend this product
Worth the hype!
Not only are they cute (so many good patterns to choose from!!), but super durable, soft, and absorbent (which is really my number 1 priority in a towel) Nate and I used them all weekend and I was shocked at how well they held up during a long dinner prep, countless hand washes and dish washing. And the material is antimicrobial! Which makes it great for kitchen and bathroom use
Zoe B.

Singapore
12/11/2019
Very lovely crates!
The delivery came very well-packed and the crates were light and cheery-coloured. Thanks!
12/30/2018
Very good. I liked them enough to make another purchase.
KALENG W.
Singapore, Central Singapore Community Development Council, Singapore
12/22/2018
Love my Aykasa crates
Thank you so much! Super speedy shipping (shipped within 30 mins of my order being placed!) and the product is so beautiful. Each colour is stunning. Perfect for me to organize all of my children's toys and also storage in my laundry cupboards. Thank you :)
Ella E.
Forest Hill, Victoria, Australia